Community Music-Making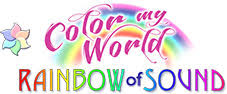 I am a "Rainbow of Sound" and "Color My World with Harp" facilitator. Both programs offer a fun way for people to make music together and learn an instrument. Instruments used include harps, kanteles, handbells, and hand percussion. People who have never touched an instrument can experience the joy of making music along with people who do play.
The program is flexible and can incorporate a particular theme or holiday.
Students, health care workers, seniors, church groups, and corporate activities are clients that have been served by other facilitators nationwide.
Contact me for more information.