Play Harp!
Interested in the harp? I can help you.
Harps come in all sizes - from the large concert pedal harps to small folk harps that are easy to play.
The Harpsicle, made by the William Rees Company in Indiana makes harps that weigh four pounds, have 25 strings, fit in the overhead bin of airplanes, and can be played sitting, standing, or strolling!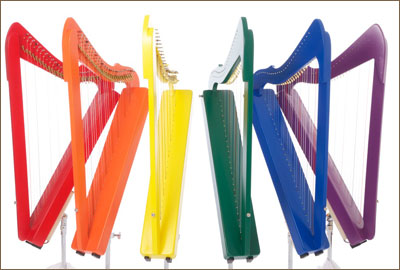 Compared to all other instruments, Harpsicles are relatively easy to play. I can show you how to make pleasant sounds during our first meeting. I can provide the fundamental knowledge you need so you can begin to learn what you want to play. If reading music is a goal (and many fine musicians *do not* read music and prefer working by ear) tablet and smartphone apps make it easy, quick, and efficient to learn how.
Musical experiences and and learning are tailored just for you. Think of me as a guide, or a coach. I am there for you when you need me. We can create a learning plan with your goals. Everyone learns differently, so let's take advantage of the way you learn. As we go, we can always adjust to meet your needs.
The harp can be found in almost every genre of music. A list of my musical mentors include players of European, South American, Celtic, and American folk music.
I offer the The Rainbow of Sound Program on O'ahu. Created by Christina Tourin, musician and director of the International Harp Therapy program, the program enables small groups to learn and play harp together. long with a complete package of harp rentals, instruction, learning materials, and more. This program is an easy and inexpensive way to discover if the harp is for you.
Watch this space in the coming months for more information. Please send me an email message about your interest so I can notify you when my products and services are available. Thank you!